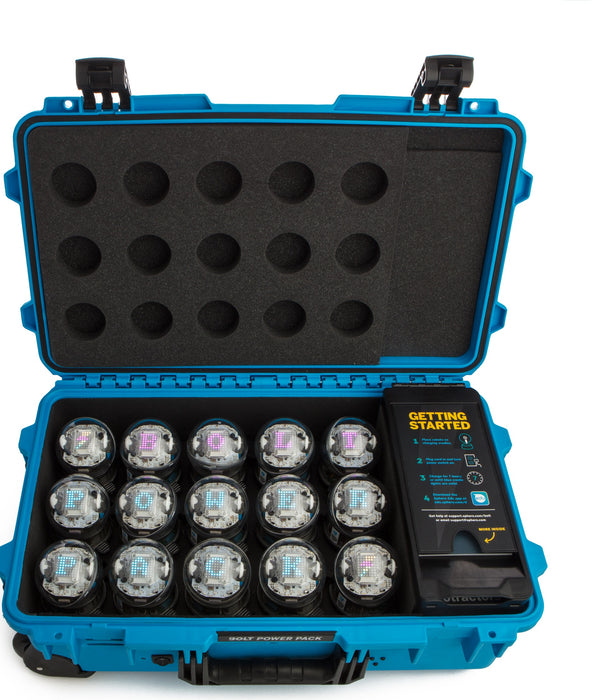 Sphero BOLT Power Pack - Classroom Action Pack (All Inclusive Bundle)
Original price
$5,195.95
-
Original price
$5,195.95
Sphero BOLT Power Pack Bundle - Classroom Action Pack Includes:
15 x Turbo/Nubby Covers
1 x Sphero Mat and Activity Cards 
1 x Sphero Computer Science Foundations Courses (One choice of level 1 -3 Course)
1 x Sphero BOLT Education Guide
2 x Sphero Chariots
2 Bonus x Sphero EDU Maze Tape
****
The BOLT Power Pack + Code Mat seamlessly pairs learning with play. This Education bundle compiles the best of Sphero's STEM solutions for schools and packages them for the classroom. The BOLT Power Pack lets you charge, store, and carry 15 Sphero BOLT robots and is built with an integrated cooling system so your programmable robots can charge safely all from one place. 
The included Cod e Mat offers a simple, accessible way to learn block-based coding, basic math principles, and collaborative problem-solving. Choose between Sphero City and Golf or Sphero Space and Soccer to bring any coding lessons to life. Includes three sets of 10 double- sided coding cards that provide guided, hands-on coding lessons for the mat of your choice.
Choose between Sphero City & Golf or Sphero Space & Soccer Code Mat.  
Sphero City and Golf Code Mat is designed to tee up your Sphero robot and take a swing while exploring concepts like distance, speed, math fundamentals, and basic coding or program your robot to navigate around Sphero City using draw, blocks, or text programming.
Choose Sphero Space and Soccer Code Mat and blast off into orbit and explore the solar system with Sphero Outer Space while gaining the foundations for computational thinking or dribble down the field in hopes of programming a goal for your team with Sphero Soccer Pitch.
You can also use the Sphero Space code mat to help in the Sphero Global Challenge!

Two-sided, 86in x 45in Sphero Code Mat

3x Sets of Activity Cards per Code Mat
What's Included in the Sphero BOLT Power Pack
1 x Power Pack case 
15 x Sphero BOLT Robots
15 x Inductive Charging Cradles with USB cables
15 x Protractors with heading, directions, and clock
15 x Clear Turbo Covers
15 x Maze Tape Rolls
124 x Stickers
1 x Quick Start Guide to get you rolling
Choice of Mat and Activity Cards
Tech Specs - For each Sphero BOLT
Bluetooth Compatibility: Bluetooth Smart
Batteries: Rechargeable lithium-ion
Battery life: 2+ hours
Charge Time: 6 hours
Height: 73mm diameter sphere
Weight: 200g
OPTIONAL: SpheroCare
What is Spherocare?
Spherocare is an extended warranty program that allows you to bring our products into your classroom knowing your investment is protected. 

What is covered under Spherocare?
 Spherocare provides full coverage of normal wear and tear and accidental damage from the date of purchase.

What is not covered under Spherocare?
Unfortunately, Spherocare does not cover lost or stolen bots and bits ‒ keep an eye on them so they don't roll away.