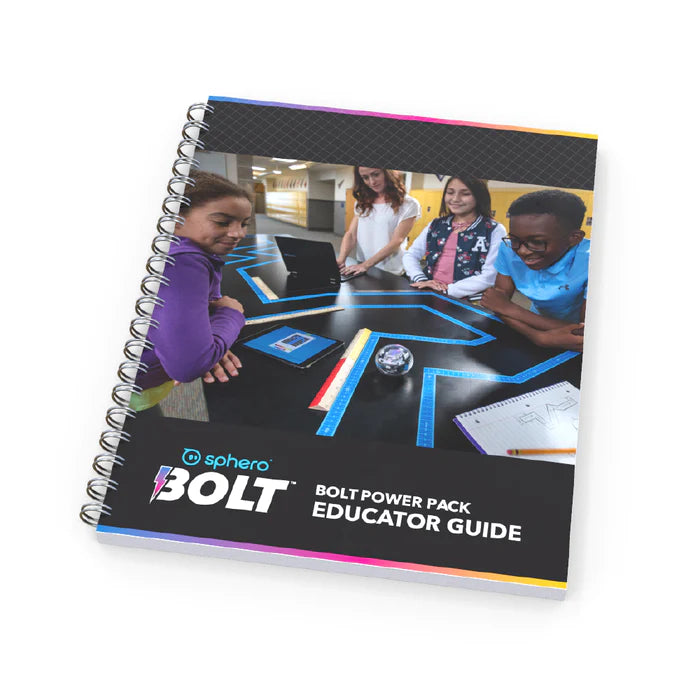 BOLT Educator Guide
Original price
$79.95
-
Original price
$79.95
You don't need to be a computer science expert to discover the endless possibilities for Sphero BOLT in the classroom! Our in-depth, standards-aligned BOLT Educator Guide walks you through getting started with BOLT, our #1 robot used in schools across the globe, and includes eight cross-curricular classroom lessons for grades 3 and up to inspire you and your students. 
SEAMLESSLY INTEGRATE TECH INTO YOUR CLASSROOM: Our guide provides step-by-step instructions for you and your students

CARRY IT AROUND THE CLASSROOM: This hard copy of our guide allows you to take it wherever you might need it

NO ACCOUNT REQUIRED: Students use starter programs to complete the activities whether or not they're signed into the Sphero Edu accounts

ENDLESS POSSIBILITIES: This guide will give you plenty of ideas for next steps with BOLT in your classroom

STANDARDS-ALIGNED STEAM LEARNING: Our eight cross-curricular classroom lessons allow students to get hands-on with subjects and topics they're already learning
Note: The BOLT Educator Guide book is included with BOLT Power Pack purchased after 8/8/2022. A free download of the BOLT Educator Guide is available here.