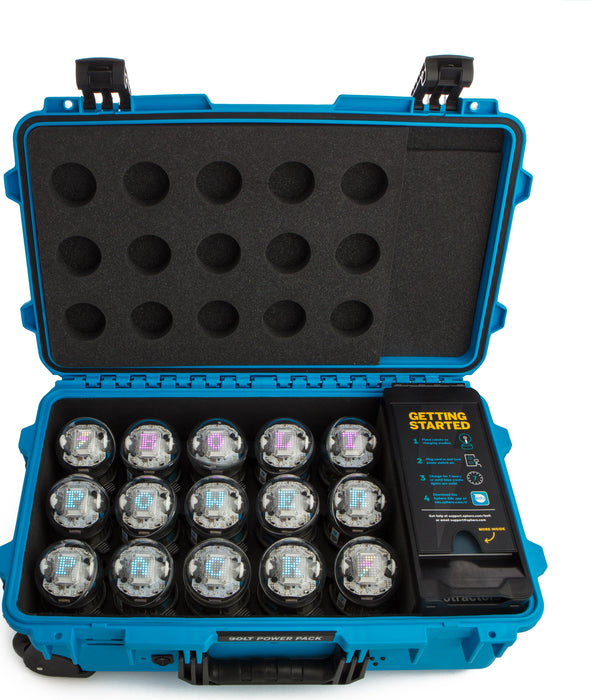 Sphero BOLT Power Pack
Original price
$3,925.95
-
Original price
$4,195.95
Sphero BOLT is an app-enabled robotic ball that provides endless opportunities to have fun while learning. Program with the Sphero Edu app, discover community-created activities or just drive and play. BOLT was built to shine with an animated 8x8 LED Matrix that displays real-time data and advanced sensors like its gyroscope, accelerometer, and infrared communications. Get amped – Sphero BOLT establishes a striking new way to learn and play.
Plug in. Power up. Roll out. The BOLT Power Pack lets you charge, store, and carry Sphero BOLT robots... times 15. Built with an integrated cooling system, your robots can charge safely all from one place.
The BOLT Power Pack is the top of the line kit for educators using the Sphero Edu program in a classroom, robotics club, or in any maker environment you can dream up. Plus it's loaded with Turbo Covers, Maze Tape, and Protractors, so the activities can get started anytime, anywhere. Tote it all like a boss in a sleek airline compliant carrying case on rollers with a retractable handle. You'll officially be the best teacher ever.
Features
Learn to code by drawing, using Scratch blocks, or writing JavaScript text with the Sphero Edu app.
The colorful LED matrix is fully programmable and easy on the eyes.
BOLT to BOLT infrared communication allows for new games and advanced movements like swarming.
Auto aim your robot thanks to the built-in compass.

An ambient light sensor allows you to program based on your room's brightness.

A long battery life of 2 hours per charge can handle even your biggest projects.
It's fun to take for a spin. Simply drive BOLT and play games.
BOLT is approachable yet advanced with more features, more power, and more fun.
What's In The Box
Power pack case

15 Sphero BOLT Robots

15 Inductive charging cradles with USB cables

15 Protractors with heading, directions, and clock

3 Turbo covers

Maze tape and 124 stickers

Airline compliant case

Compatible with Sphero Edu app for iOS, Android, Amazon Fire OS, macOS, Windows, & Chrome OS
Compatible with Sphero Play app for iOS, Android, & Amazon Fire OS
Compatible with Swift Playgrounds for iOS
Features
Learn to code by drawing, using Scratch blocks, or writing JavaScript text with the Sphero Edu app.
The colorful LED matrix is fully programmable and easy on the eyes.
BOLT to BOLT infrared communication allows for new games and advanced movements like swarming.
Auto aim your robot thanks to the built-in compass.

An ambient light sensor allows you to program based on your room's brightness.

A long battery life of 2 hours per charge can handle even your biggest projects.
It's fun to take for a spin. Simply drive BOLT and play games.
BOLT is approachable yet advanced with more features, more power, and more fun.
Tech Specs
Integrated charging and fan cooling systems
Retractable handle and roller wheels for easy transport
FAA carry-on compliant
Lockable with dual lock ports
Storage space for included accessories and power adapter
Weighs 27.6 lbs (12.52 kg)
Product dimensions measuring 23" X 14" X 9" (58.4cm x 35.6cm x 22.9cm)
Power Adapter: Type A (USA and Canada)
OPTIONAL: SpheroCare
What is Spherocare?
Spherocare is an extended warranty program that allows you to bring our products into your classroom knowing your investment is protected. 

What is covered under Spherocare?
 Spherocare provides full coverage of normal wear and tear and accidental damage from the date of purchase.

What is not covered under Spherocare?
Unfortunately, Spherocare does not cover lost or stolen bots and bits ‒ keep an eye on them so they don't roll away.