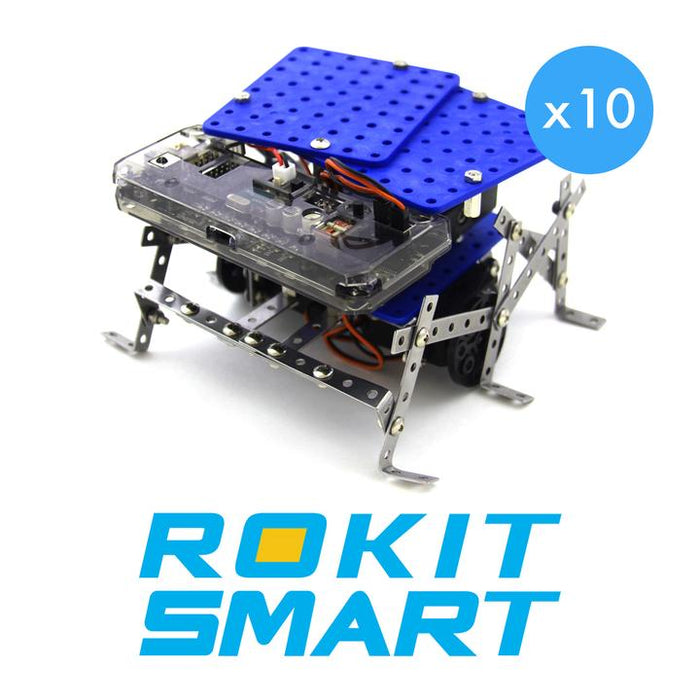 Rokit Smart - Set of 10 kits
Original price
$1,649.95
-
Original price
$1,649.95
Get a discount on a set of 10 Rokit Smarts. This is suitable for a classroom of 10 students for a 1-to-1robot:student ratio, or a classroom of 20 students for a 1:2 ratio.  We recommend no more than 2 students to a robot.
Rokit Smarts are individually packaged.
Rokit Smart is our original programmable robotics kit and the perfect robot for kids wanting to get hands-on with mechanics and coding. 
Build 11 different robots from a single kit. Rubber band shooters, line-trackers, sumo wrestlers, anything you can imagine! You get a real circuit board and real tools. Build your mechanical skills while learning about circuitry and engineering.
It also comes with simple step-by-step tutorials to build and program 11 unique robots. Best of all, Rokit Smart is built with Arduino, one of the most widely used open-source environments for programming.
You get:
10 Rokit Smart
Each Rokit Smart includes;

1 Smart Inventor

 

Arduino-compatible circuit board

2 DC motors

4 Peg boards

Metal frames

1 Remote control

1 micro USB cable

Nuts, bolts, standoffs

45min Virtual Professional Development