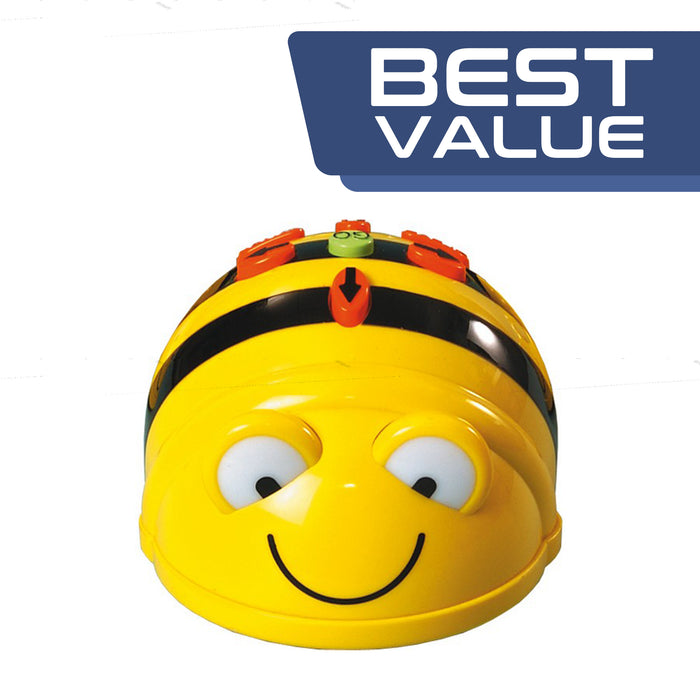 Bee-Bot Classroom - BEST VALUE BUNDLE! (BONUS FREE Bee-Bot Sensors- Value $139.95)
Original price
$3,945.95
-
Original price
$3,945.95
Bee-Bot Classroom - BEST VALUE BUNDLE
A smart way to bring fun, learning and enjoyment of the Bee-Bots into your classroom. Save and receive FREE Bee-Bot Sensors- Value $139.95!
Bundle Includes:
18 x Bee-Bots See n Say version (New!)
3 x Docking Stations
3 x Storage Bags
1 x  Words Mat & Word Cards
1 x  Alphabet Mat & Alphabet Cards
1 x Community Mat & 3D Community Construction Kit
1 x Card Mat -2 layered Mat
1 x Shapes, Colors, and Size Mat
1 x Number Line Mat
18 x Packs of Command Cards (Single Packs)
18 Color-Me-Jackets
1 x Bee-Bot Lesson Plan
4 x Bee-Bot Sensors - FREE
New See n' Say Version !

The new See n' Say version gives Bee-Bot a voice and perception! Record each of the arrow keys to play back when entering a program or when Bee-Bot is following one. 
Bee-Bot See & Say can also detect and respond with either a beep or a pre-recorded message when encountering another See & Say Bee-Bot or Blue-Bot.