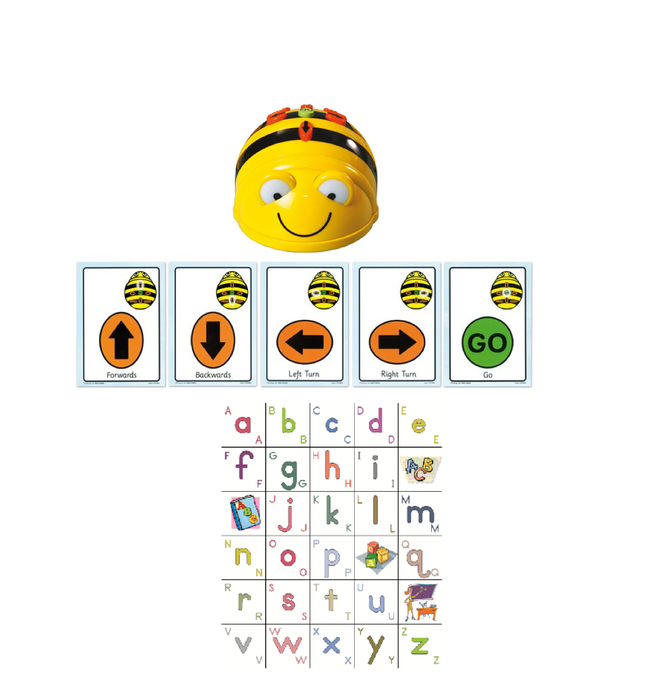 Bee-Bot (1 Robot Pack) - Robot Bundle with Mat & Command Cards
Original price
$235.95
-
Original price
$235.95
Bee-Bot (1 Robot Pack) - Robot Bundle with Mat & Command Cards
The Bee-Bot Pack includes: 1 Bee-Bot, 1 Mat and 1 set of Command Cards.
The Pack is a wonderful way to bring the fun and excitement of learning the Bee-Bot into your classroom! Bee-Bot is an exciting new robot designed for use by young children. This colorful, easy-to-operate, and friendly little robot is a perfect tool for teaching sequencing, estimation, problem-solving, and just having fun!
Bee-Bot sturdy construction and colorful design entice children to put Bee-Bot through its paces. Directional keys are used to enter up to 40 commands which send Bee-Bot forward, back, left, and right. Pressing the green GO button starts Bee-Bot on its way. Bee-Bot blinks and beeps at the conclusion of each command to allow children to follow Bee-Bot through the program they have entered and then confirms its completion with lights and sound. Children want to use Bee-Bot over and over and are inspired to enter ever more creative and complex command sequences.
Bee-Bot moves in 6 inch steps and 90 degre turns. Compact size and durable materials make Bee-Bot child- and classroom-friendly. Bee-Bot is equally adaptable to home and school environments and boosts enthusiasm for experimentation and learning wherever it is used. Bee-Bot is powered by a built-in rechargeable battery. Recharging is done via a standard USB recharger or USB computer port. A USB recharger cable comes with each Bee-Bot.
A full line of Bee-Bot materials are available to enhance teaching and learning with Bee-Bot in the classroom. This broad range of products includes curriculum, accessories, and mats. We also offer bundles that combine Bee-Bots and related products to make it easy and economical for schools to bring these exciting new products into their classrooms.
 New See n' Say Version!
The new See n' Say version gives Bee-Bot a voice and perception! Record each of the arrow keys to play back when entering a program or when Bee-Bot is following one. 
Bee-Bot See & Say can also detect and respond with either a beep or a pre-recorded message when encountering another See & Say Bee-Bot or Blue-Bot.
Includes:
1 x Bee-Bot See & Say Version
1 x Alphabet Mat
1 x Command Cards