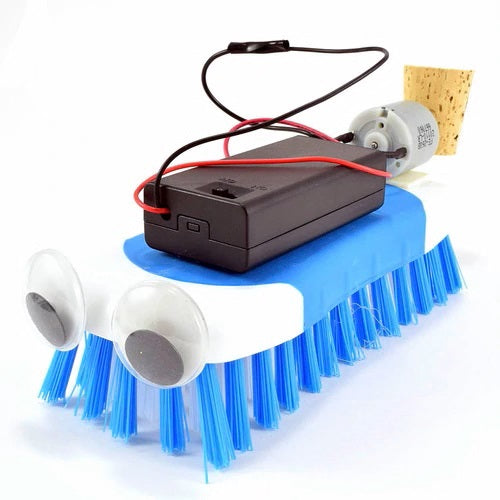 Bristlebot Kits - 25 Packs
Original price
$149.95
-
Original price
$149.95
Bristlebots are small robots made by combining a toothbrush head and vibrating motor. By changing the position of the pipe cleaner arms, Bristlebots will travel in circles, straight lines, or scoot around randomly. What can you make your Bristlebot do? Bristlebots are great for teaching engineering, motors, circuits, and principles of balance.
NOTE: Bristlebots do not require tools to build. The toothbrush head comes pre-cut, and motor wires have exposed ends to connect to the battery.
Build Time: 5-15 minutes
Age Range: 10+
Tools Needed: None
Caution: Contains small parts
Video
Instructions
Our step by step directions can be printed off by clinking on a link below.  Available in English and Spanish.
Bristlebot_Instructions.pdf
En Español.pdf
Video guide can be seen below.
Teacher Resources
Microsoft Word Documents (.docx)
Elementary School
Lesson Plan
Student Page
Middle School
Lesson Plan
Student Page
High School
Lesson Plan
Student Page
PDF Files (.pdf)
Elementary School
Lesson Plan
Student Page
Middle School
Lesson Plan
Student Page
High School
Lesson Plan
Student Page