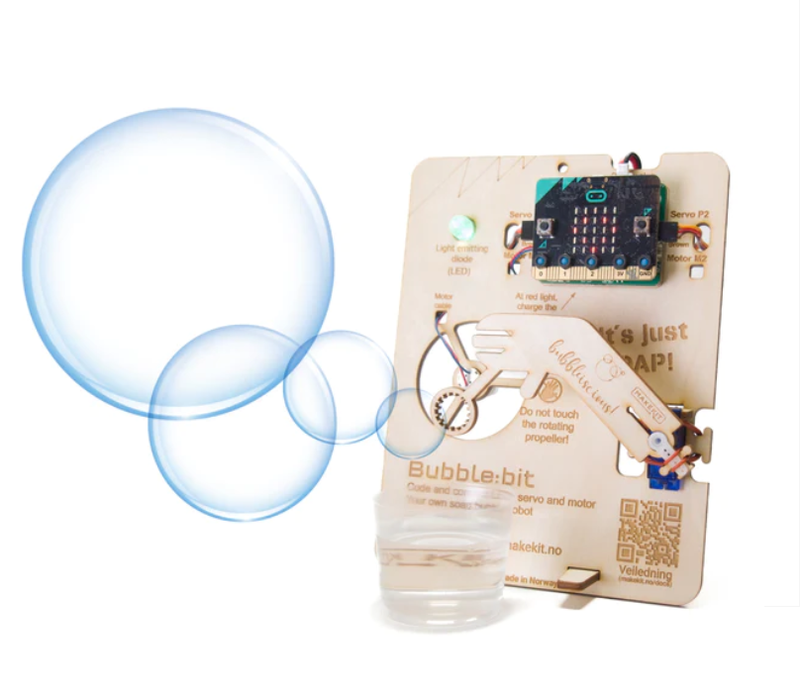 Bubble:bit (Does not include the micro:bit)
Original price
$65.95
-
Original price
$65.95
A practical and fun approach to learning about tomorrow's technology. You build, code and the robot gives you light, waves and blows soap bubbles of pure joy!
You need 1 micro: bit(available as an option). Micro.bit can be used on a variety of other construction kits and for various exciting buildings and code projects.
The construction kit contains (1x):
1 piece. 

MakeKit multi:bit control board

1 piece. Lithium (lipo) battery

1 piece. Bubble:bit frame plywood.

2 pieces of small parts in plywood

1 pcs propellers

1 piece. Servo w/servo horn

2 pcs. large rubber rings

2 pcs. small rubber rings

1 pcs LED

Nuts and bolts
PS: 10x Wonderkit Bubble:bit version requires you to have the starting package with WonderKit Control board and the MAKEKIT Lithium battery.
✅ Innovative construction sets for both technology -interested children and adults of all ages.

✅ Engaging introduction to electronics, power engines and coding.
✅ Sustainable kit that is environmentally friendly, easy to reuse and fix yourself.
✅ Designed and produced in Norway.