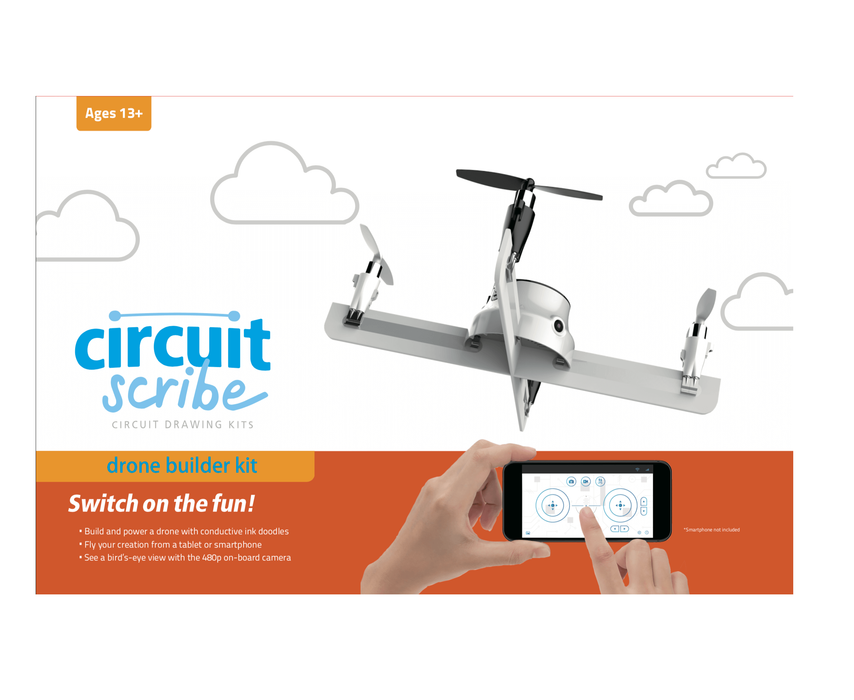 Circuit Scribe - Drone Builder Kit
Sale
Sale
Original price
$99.95
-
Original price
$99.95
Build and fly your own drone with the Circuit Scribe Drone Builder Kit !
Power your cardboard arms with conductive silver ink, or build the PCB arms included, and connect your drone's hub and motors. Download the controller - CS Pilot App (iOS & Android) and take to the skies!
Fly your creation from a tablet or smartphone. It comes with a 480p on-board camera.
Build & fly your own drone, in three easy steps!
⒈ Sketch - Draw your circuits onto the arms using Circuit Scribe pens.
⒉ Snap - Easily snap the drone hub and motors into place.
⒊ Soar - Download free mobile app and soar! 
Drone Kit includes:
Circuit Scribe conductive ink pen 🖋

4 motors, 4 propellers, 4 extra propellers 💨

Drone hub with on-board camera 📸

Battery and battery charger 🔋

FREE iOS & Android controller app download 📲
Mobile App features: easy-to-fly hover, takeoff and landing modes, and even full manual joystick control. See a live bird's-eye view with the on-board camera and record video + pictures in the app!
Use the included pre-made plastic arms for testing, PLUS make your own arm designs with the included extra cardboard.