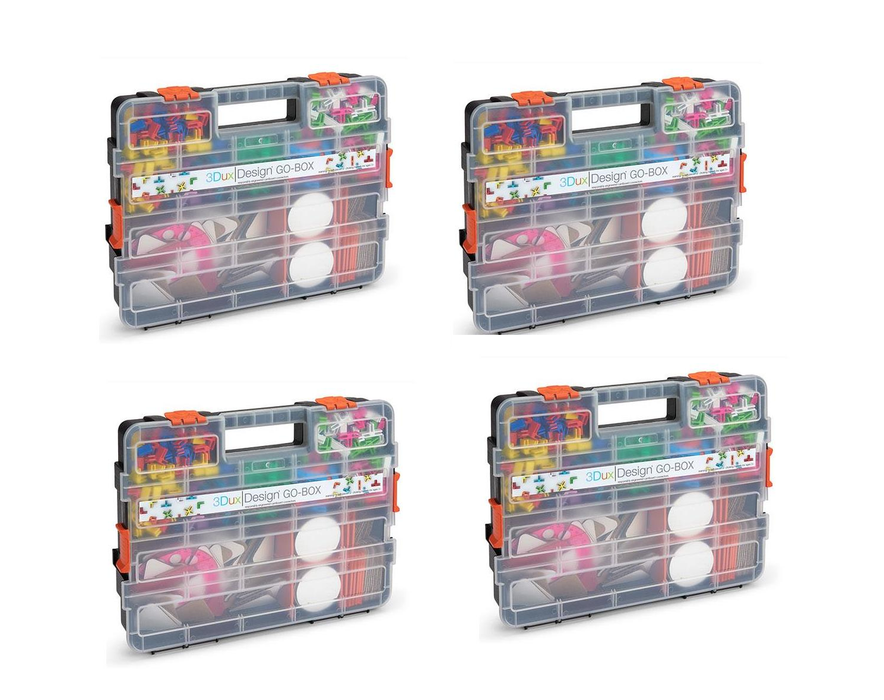 GOBOX Classroom Bundle (4 x GOBOX Classroom Kits)
Original price
$1,325.95
-
Original price
$1,325.95
Includes over 400 connectors for up to 25 students

500+ geometric cardboard shapes/white on one side

also works with single ply cardboard

Works with 3DuxUniversity lesson plans and independent projects

Typically ships within 48 hours

ages 4+ / choking hazard - small parts

GOBOX Classroom Bundle INCLUDES: 4 x GOBOX Classroom Kits

Each GOBOX Classroom Kit Contains:
400 connectors
5 pc geometric ruler set
over 500 geometric cardboard forms
3DuxDesign exclusive carrying case
The GO-BOX Classroom Cardboard Construction Set is the ideal modeling product for your classroom, maker space, STEM projects, or after-school enrichment programs. A colorful assortment of over 400 reusable connectors plus over 500 geometric cardboard shapes makes building complex 3D prototypes, architectural and engineering models easy for students ages 4-13.  
The GO-BOX has enough connectors and cardboard to keep up to 30 students building anything they can imagine. Use additional  repurposed shipping boxes with the connectors for endless raw material and shapes.
No messy glue or expensive tape needed; plus the reusable 3DuxDesign connectors allow students to rework and refine thier projects over and over again. 3DuxDesign modeling sets can be used for model making of any type... create buildings, characters, vehicles, bridges or design and build the entire sustainable community of the future.