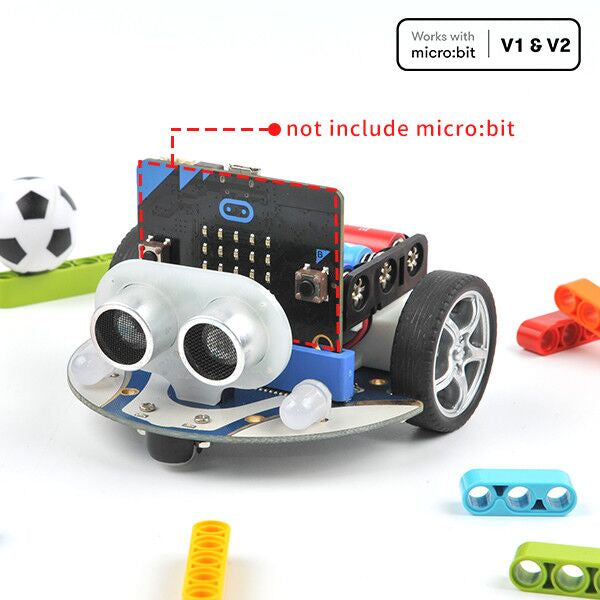 Smart Cutebot (without micro:bit) - ElecFreaks
Original price
$55.95
-
Original price
$55.95
Cute and Mini: Simple color matching makes the appearance look more lovely, and the small size is very convenient to hold.
Structural Characteristics: (1)Elecfreaks Cutebot car is a dual-speed motor, intelligent coding car which featuring strong power.(2)Tiny structure with an arc shape featuring crashproof and confortable feel.
Creativity: Rich cutebot graphical programming blocks allow kids to learn programming from the simplest to more complex.They can achieve distance tracking, obstacle avoidance, line following, light show, play music, wireless control etc.
Extension Port: (1)Sensors Extension: Kids can do more experiments through 3PIN port. (2)Building Block Extension: This microbit robot is compatible with building block, kids can create various shapes. It better improves their interest in programming.
TIPS: WITHOUT micro: bit and BATTERY !!! Please use under adult supervision. Suitable for ages over 6 years old.
ELECFREAKS Cutebot is a rear-drive smart car driven by dual high speed motors.

 
There are many on-board equipments on the Cutebot including ultrasonic sensor and distance sensor, two RGB LED headlights and clearance lamps on the bottom, two line-tracking probes, an active buzzer as the horn and so on! Let's drive your first smart car!
Welcome to Wiki page, the fun cases will bring children with the joy of programming!!!
Detailed Steps
Don't worry that children can't learn to program, detailed steps let children get started easily.
Visualized Programming, Make Programming within Reach. Programming learning, Starting from child
Turn ideas into reality and let more children become maker!
Kids can learn micro:bit from simplest to more complex. They use programming to achieve what they want. It better improves children's interest in programming!
Multiple Details Show to Take You Into Scientific Exploration
RGB Headlights and Rainbow LED

Different color lighting effects make your car dazzling in the dark

Infrared Receiving Probe

Can be used to receive signals from infrared remote control

6 Small Building Block Holes

Can install screws and nuts to fix the blocks you want

HC-SR04 & I2C Connections

Support HC-SR04 & I2C directly connection. HC-SR04 connection in front row and I2C connection in back row.
microbit Smart Cutebot Kit for Kids BBC micro:bit DIY Programmable Robot Car for STEM Education School Student Project