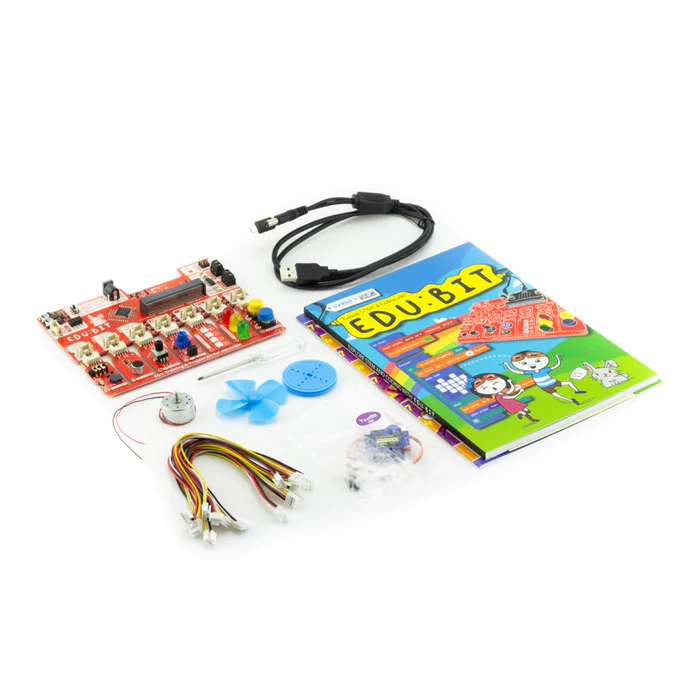 Edu:bit Training & Project Kit for micro:bit (without micro:bit)
Original price
$89.95
-
Original price
$89.95
Description
This beginner-friendly micro:bit kit is specially designed to encourage kids to explore STEAM/STEM and to learn to code. You can easily program EDU:BIT using the Microsoft MakeCode Editor. Just add te EDU:BIT MakeCode Extension and you're good to go. If you're a beginner, you can start with the block programming mode; simply drag, drop and snap the coding blocks together. For more advanced users, you can easily switch into JavaScript or Python mode on the MakeCode Editor.
New to coding? Don't worry. This kit comes with a booklet covering 10+1 hands-on coding lessons, which have been creatively structured to introduce programming basics in a fun and engaging manner. Each chapter features a classic game such as Rock Paper Scissors, Snakes and Ladders, Twister, and Simon Says. Follow the step-by-step guides to build the games and then have fun playing with your friends! *Game accessories are provided in this kit. At the end of each chapter, there is a challenge which requires you to apply what you've learned to build a useful application for your classroom. Give it a try!
Start having fun with EDU:BIT right out of the box. Start coding right away and see your board light up and play a melody with the press of a button. No wiring required when used as a training kit. Can't control servo motor and play music at the same time on your micro:bit? Does a Servo motor refuse to move correctly? Worry no more! EDU:BIT takes care of these issues with its dedicated controller and power supply. It can even support up to 3 servo motors and 2 DC motors to actuate any creative projects that you build.
Each feature and its associated microbit IO pin is clearly labelled on the board for easy reference. In addition, indicator LEDs are built-in on EDU:BIT to ease troubleshooting for both digital and analogue IO pins.
Ready to build your own projects? You can break off the modules on EDU:BIT board for more flexibility in your project design. Plug-and-play cables are provided for you to connect the broken off Bits to the mainboard.
Last but not least, we even provide a special space on EDU:BIT for you to write your name. Get yours today!
Note:
Please note; this kit does not include a micro:bit.
Features:
This kit is specially designed to encourage kids to explore STEAM/STEM and to learn to code.
Code it with blocks, Javascript, or Python in the MakeCode editor.
It can be used as an introduction to coding.
The EDU:BIT board features;

1 x Piezo buzzer with an audio jack.
4 x Programmable RGB LEDs .
1 x Sound sensor.
3 x Big LEDs (traffic light module - red, yellow, and green).
1 x IR sensor.
2 x Pushbuttons.
1 x port for I2C Interface (3.3V).
3 x ports for servo motors.
1 x Potentiometer.
2 x ports for DC motors.
Contents:
EDU:BIT 

Dimensions:
Length: 157.50mm.
Width: 124.50mm.
Height: 19.00mm.
Video:
Requires:
Resources: