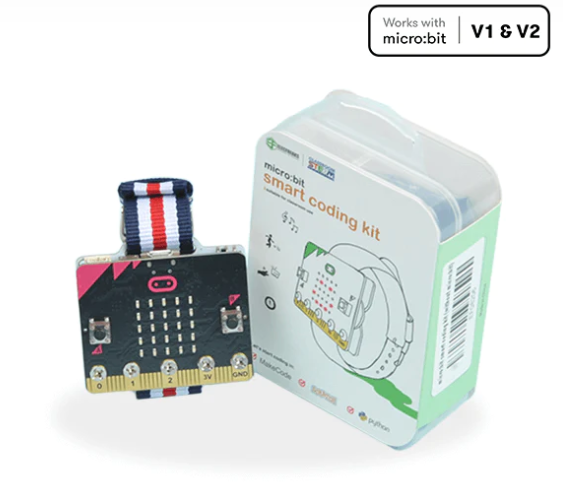 ELECFREAKS micro:bit Smart Coding Watch Kit
Original price
$45.95
-
Original price
$45.95
ELECFREAKS Smart Coding Kit is a wearable device based on micro:bit button cell extension board Pro, a DIY micro:bit watch can be easily made with a simple installing method.
ELECFREAKS is an official Partner of micro:bit Educational Foundation focusing on developing educational and creative micro:bit accessories for the world. We devote ourselves to providing the most complete and excellent products and services to our customers. We have created tutorial blogs, learning materials, videos, and fun case studies as part of building global micro:bit communities in education.
ELECFREAKS micro:bit Smart Coding Watch Kit WIKI
Support Mutiple Programming
The fun cases will bring children the joy of programming!
Children can use programming to achieve what they want. It better improves children's interest in programming!
Teachers or parents also can give the child some help through communication to let the child have fun in programming!
Name: Wear:bitWorking
Voltage: 2.7~3.3V
Buzzer: Support
Size: 49.1x51.6mm
Net Weight:12.7g
Only Support 2025 Button Cells.
Important: WITHOUT micro: bit and BATTERY.
Characteristic For Wear:bit
Powered by two 3V CR2025 lithium batteries.
Loaded with a buzzer that is controlled through the P0 port.
Loaded with a buzzer switch.
It can be used with the watch strap and the micro:bit.
Simplify the installation without using the acrylic back shroud.
Maintain a simple style with 3-pin ports canceled.
Upgrade the function by adding a switch for the buzzer.