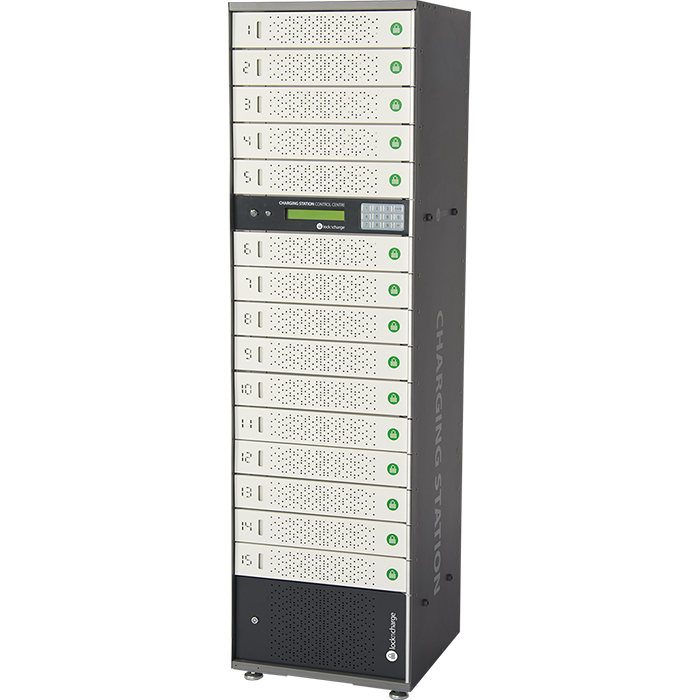 FUYL Tower™ Charging Locker - WiFi Ready
Original price
$0.00
-
Original price
$0.00
Efficient charging.

 

Each charging station compartment in the charging tower is equipped with a power outlet and a 2.4 amp USB port, so you can charge almost any device, including; iPads, Tablets, Laptops, Chromebooks, mobile phones and more (1).
Intelligent remote management.

 

The FUYL Tower charging locker features innovative software that enables administrators to actively monitor locker usage anytime, anywhere.
More than just a powered charging locker.

 

Where the FUYL Tower shines is through the innovative management software that comes included with the tower itself. Once network connected, designated administrators can view, access and manage one or more FUYL Towers remotely.
Remote access.

 

Administrators can remotely open any door, deny access to a reserved locker, view the status of FUYL Towers on the network, receive alerts of any abnormal usage or technical fault and download a full audit log.
Highly Secure.

 

The digital keypad controls the security of every compartment. Additionally, the management software records every time a compartment is opened or closed, enabling administrators to investigate abnormal usage and more.
Includes signage that communicates that the FUYL Tower is a charging tower resource for charging devices.
Fully ventilated.

 

Designed with passive ventilation to minimize heat build-up during charging.
Lifetime warranty

 

(2).

 

LocknCharge products are built to last.
The option to receive automatic notifications.

 

By subscribing to our cloud based service, FUYL Tower Assist, we do the hard work for you and will let you know whenever anything needs attention. With Assist you "set and forget". This service is currently included with every FUYL Tower.  
Future proofed.

 

FUYL Tower software and firmware upgrades can be downloaded and installed via the FUYL Tower Management Portal.
Secure digital locking system that's easy to operate.

 

Each individual locker is conveniently operated by the central control panel where you simply follow the prompts on the screen.
Wi-Fi ready

 

–  easily connect the FUYL Tower to a Wi-Fi network.
Modular and scalable.

 

The FUYL Towers minimalist design adapts to any space.
API integration available. Take your FUYL tower to the next level by integrating with the FUYL Tower's API – allowing your development staff to integrate software or apps that connect with the FUYL Tower.
Leverage in device check-in and check-out environments. Easily contain fully charged, ready to use devices inside the locker bay until the administrator provides access to a user. Administrators can also assign a specific compartment to a single user.
FUYL Tower Specifications:
External Product Dimensions:
Height: 69.7 inches
Width: 18.8 inches
Length: 18.8 inches
Weight: 172 lbs 
Bay Door Dimensions: 13.3 (L) x 16.9 (W) x 2.7 (H)
10115 – WiFi Ready Version
What's in the box:
FUYL Tower 
"Charge Here" signage
Wall fixing kit
Manual Overide unlocking lever
Administrator Keys
Power cord
Instruction manuals
Warranty registration card