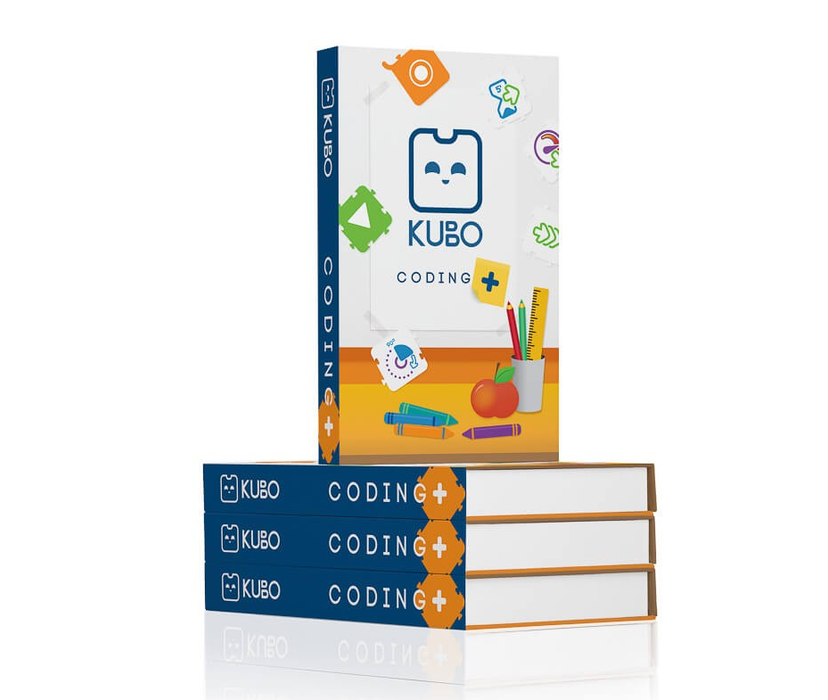 Kubo Coding - 4-Packs of Kubo Coding+ Extension
Original price
$169.95
-
Original price
$169.95
KUBO is a simple, intuitive solution that makes it easy for teachers to introduce computer science and coding to students as young as four.
KUBO Coding+ Extension (4-Packs)
Boost your students' coding expertise with this super assortment of 36 additional TagTIles® to use with your KUBO Coding sets. These tiles allow control of time, speed, distance and direction.
KUBO Coding+ allows students to become more confident programmers using functions, subroutines and loops for endless possibilities. This set takes students from basic to advanced programming skills and, combined with the original KUBO Coding Pack, provides a full K-5 solution.
About KUBO Robot
KUBO makes coding as easy as doing a puzzle! Together with its screenless, tangible TagTile programming language, KUBO simplifies abstract concepts in coding and lays the foundations for computational literacy. It also teaches essential 21st-century skills like creativity, collaboration, critical thinking, and communication. Expect hours of fun with your kids as KUBO and its TagTiles make the complex world of programming fun and engaging!
As Tactile As A TagTile 
The tiles, which snap together like the pieces of a puzzle, allow control of basic movements, time, speed, distance and direction. Students have endless possibilities to develop increasingly complex programmes using basic movements, functions, subroutines and loops.
The TagTiles can be used to build increasingly complex code as students develop their capabilities but are simple enough for beginners to engage with and understand. They're also flexible enough to teach students a number of different subjects, including music, math, and spelling.
KUBO Coding Solution Features:
EASY TO ADOPT: Without any screens or software, KUBO removes the common barriers that many primary school teachers face when embedding technology skills into the curriculum. The solution is up and running in five minutes, with no previous experience required.
UNIQUE TAGTILE™ SYSTEM: Offers students new ways to learn — it's as simple as snapping together the pieces of a puzzle.
HIGH CURRICULUM RELEVANCE TO MAXIMIZE LEARNING OUTCOMES: While KUBO introduces the basics of computational thinking by covering sequences, functions, subroutines and loops, its expandable solution covers multiple curriculum subjects, such as language, science and mathematics, in an open-ended, hands-on way.
EASY TO DIFFERENTIATE: KUBO takes students from simple to advanced levels of programming and computational thinking.
INCLUDED:
You get 4-Packs of Kubo Coding+ Extension
Each KUBO Coding+ 4-Pack Set includes:

1 x each Wait 2, 5 and 10 seconds tiles
1 x each Go Slow, Go Medium or Go High Speed tiles
4 x Go Back and 2x U-turn tiles
2 x each Go Forward 2x, 3x or 4x tiles
2 x each Turn 90 and 1x each Turn 180 degrees, left and right
Additional Function tiles, making the way for teamwork and team challenges
Free access to The Coding License online classroom activities, including beautifully illustrated task cards, worksheets and comprehensive teachers notes to download
NOTE: To use these tiles you will need a KUBO Coding single set or 4-pack solution.(which is not included)