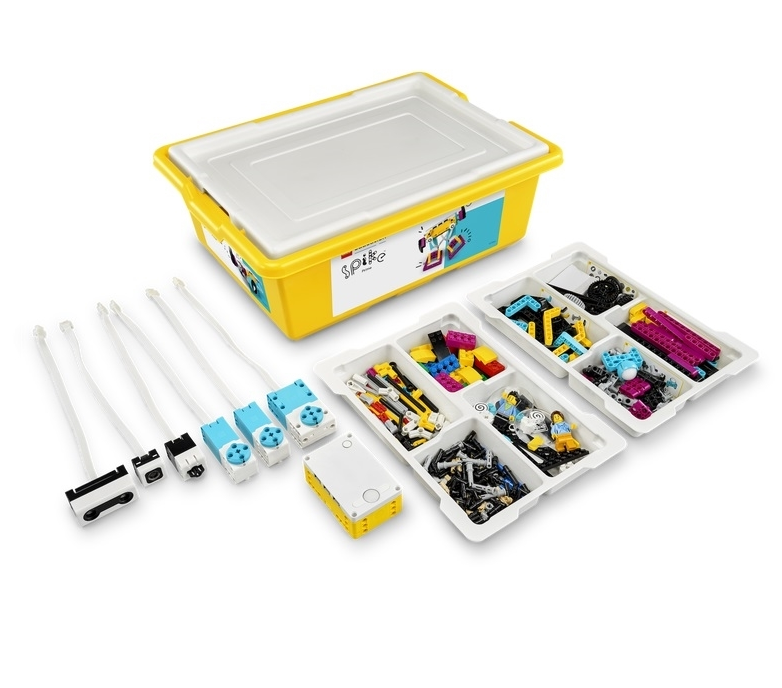 LEGO® Education SPIKE™ Prime Set
Original price
$595.95
-
Original price
$595.95
LEGO® Education SPIKE™ Prime Set
Highlights:
The LEGO® Education SPIKE™ Prime Set is the go-to STEAM learning tool for grade 6-8 students. Combining colorful LEGO building elements, easy-to-use hardware, and an intuitive drag-and-drop coding language based on Scratch, SPIKE Prime continuously engages students through playful learning activities to think critically and solve complex problems, regardless of their learning level. From easy-entry projects to limitless creative design possibilities, SPIKE Prime helps students learn the essential STEAM and 21st century skills needed to become the innovative minds of tomorrow... while having fun!
The intuitive coding environment for tablets and computers takes the best elements from the popular coding language based on Scratch, creating a system that teachers and students will love. In addition to Getting Started Material, the app comes with 3 unit plans of curriculum-aligned STEAM content focusing on Engineering and Computer Science.
Designed for students grades 6-8 and optimized for 45-minute lessons, these units accelerate STEAM learning by consistently engaging students to think critically and to solve complex problems, regardless of their learning level. Comprehensive online lesson plans with a wealth of accessible, interactive support material gives teachers everything they need to deliver lessons with confidence, whatever their previous experience.
Curriculum and Lesson Topics:
The Key Learning Values include:
Apply engineering design skills at each step of the design process.
Develop efficient problem-solving and coding skills through decomposition of problems and algorithmic thinking.
Design projects that combine hardware and software components to collect and exchange data.
Work with variables, data arrays and cloud data.
Apply critical thinking and develop life skills for the careers of tomorrow.
At-Home STEAM, Afterschool & Summer Programs:
SPIKE Prime brings STEAM creativity and engagement into at-home learning, afterschool programs, summer camps, robotics clubs, coding programs and maker spaces. For robotics competitions such as FIRST® LEGO® League and World Robot Olympiad, the SPIKE Prime Expansion Set and Competition Ready unit help empower students and teachers who are new to robotics and in need of more formalized training. The final lesson of the competition unit has direct ties to the annual FIRST LEGO League Robot Game, making this the ideal start of the exciting competitions journey in or out of the classroom.
The durable storage box and 2 sorting trays also means time spent setting up and clearing away is kept to a minimum, while the smaller trays are ideal when desk space is limited.
Additional Information and Resources:
Technology Requirements:
Supported operating systems: iOS, Chrome, Windows 10, Mac and Android