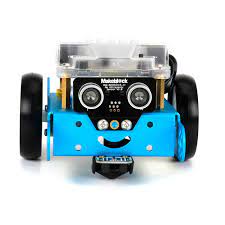 Makeblock mBot-S Explorer Kit
Original price
$129.95
-
Original price
$129.95
The mBot-S is an entry-level robot kit that's part of the mBot series and targets students aged 8 and up. It is the upgraded version of the mBot. In addition to the standard features of the mBot, the mBot-S comes with an LED matrix, allowing students to customize and display images by programming LEDs. For educators at the elementary level and above, this is a great tool for incorporating STEAM into any class.
An integrated chassis, user-friendly design, and clear instructions make it easy for children to assemble the mBot-S in less than 30 minutes! After building, users can control the robot, play games via mobile apps, or write code with Makeblock's visual programming software, mBlock 5.
By programming with mBlock, students can make their programs for the mBot-S visible in the physical world and observe the real effects of sound, light, and movement. The mBot-S also has three preset modes: Avoiding obstacles, line following, and manual control. By switching between modes, students can command the robot to automatically avoid obstacles, move along a line, or use the remote controller or companion software to manipulate the mBot-S to do whatever they'd like.
With just a screwdriver and the step-by-step instructions, students can build a robot from scratch and experience the joys of hands-on creation. As they go, they will learn about a variety of robotics machinery and electronic parts, grasp the fundamentals of block-based programming, and develop logical thinking and design skills.
If you're looking for guidance on how to program a robot using Scratch, check out our Tips & Tricks for coding with the mBot-S on our blog.
What's in the Box:
1 Mini Wheel

25 M4*8 Screws

8 M3 Nuts

8 M4*25+6 Brass Studs

4 M2.2*9.5 Screws

3 RJ25 Cables 6P6C-20cm

2 Motors

2 Slick Tires

2 Plastic Timing Pulleys 90T for Motors

1 AA Battery Holder

1 Bluetooth Module

2 Motor Parts

1 Mainboard mCore

1 Ultrasonic Sensor

1 Me Line Follower

1 2.5mm Screwdriver

1 USB Cable

2 mCore Cases

1 mCore Shell

1 White Acrylic Array Board

1 3*3*120° Bracket

1 Hook and Loop

1 IR Remote Control

6 M3*25 Screw s

10 4*7*10 Plastic Spacers

4 M4*16+6 Brass Studs

8 R2064 Rivets

1 LED Matrix

4 M4 Nuts

10 4*7*3 Plastic Spacers

4 M4*14 Screws