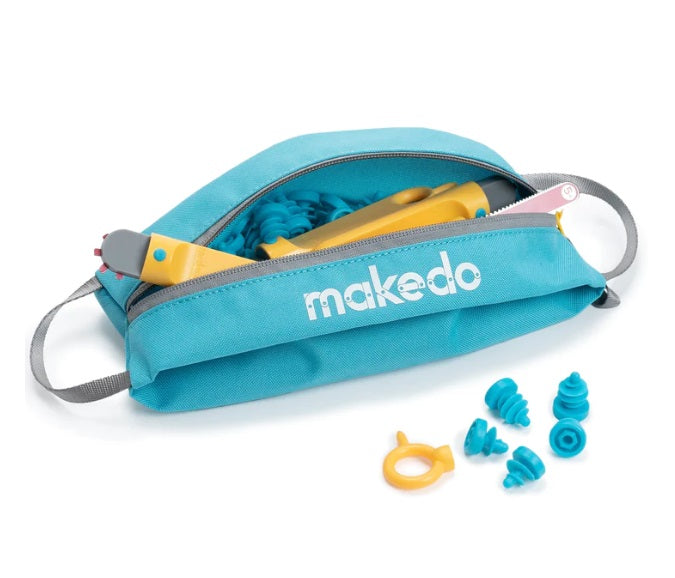 makedo Tool-Case
Original price
$24.95
-
Original price
$24.95
Introducing the Makedo Tool-Case: The Perfect Companion for Your Creative Adventures!
Making cardboard magic has never been easier with the Makedo Tool-Case, a must-have accessory for all Makedo enthusiasts. Precision-crafted and eco-friendly, this compact and durable case has been designed to keep your Makedo tools organised and easily transportable, setting the stage for imaginative play and big FUN. So move over Batman and Robin, with your Tool-Case and Makedo tools, there's a new dynamic duo in town!
Stylish Design: With a sleek design that is both cool and practical, the Tool-Case has been crafted with functionality and aesthetics in mind. Dual handles allow for easy transportation and its compact size is perfect for bags, drawers and shelves.
Dedicated Tool Storage: The Tool-Case holds up to 16 tools and 432 Scrus simultaneously, keeping your Makedo essentials neatly organized. Say goodbye to rummaging through your drawers for missing pieces or stepping on wayward Scrus (ouch!).
Eco-Friendly: Our Tool-Case has been crafted from recycled materials, aligning with our commitment to a greener planet and brighter future for all. 
All Ages: With an intuitive design, parents and kids alike will love using the Tool-Case with ease. Whether you're a parent looking to enhance your child's creative play or a teacher sparking the imaginations of young minds, the Tool-Case is the ideal companion for Makedo kits.
Versatile: Not only great for your Makedo tools and Scrus, the Tool-Case also stores art supplies, craft tools and so much more. We can't promise it will keep your kid's room tidy (we're not miracle workers after all), but it might just help!
Elevate your making journey with the Makedo Tool-Case today.
Benefits
✓ Stylish and easily transportable design
✓ Neatly organises tools and Scrus
✓ Made from recycled materials
✓ Intuitive design for all ages
✓ Versatile and durable
What's included?
1x Makedo Tool-Case
Dimensions:
270 x 90 x 90 mm
10.63 x 3.54 x 3.54 inches
1x Makedo Tool-Case

Dimensions:
270 x 90 x 90 mm
10.63 x 3.54 x 3.54 inches