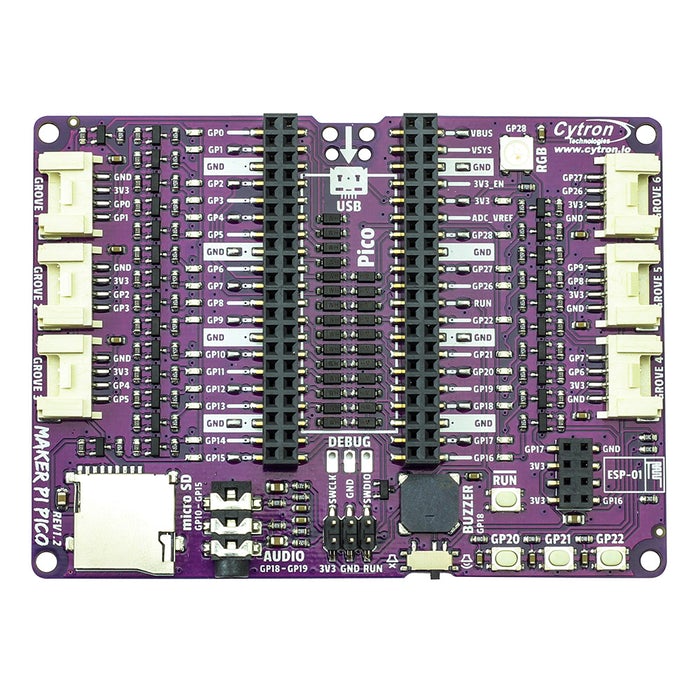 Maker Pi Pico Base : Simplifying Pi Pico for Beginners (excludes Pico)
Original price
$21.95
-
Original price
$21.95
Description
The Cytron Maker Pi Pico Base is an all-in-one accessory for the Raspberry Pi Pico, offering a feature-rich learning environment for beginners and beyond!
The Maker Pi Pico Base has been specifically designed to simplify learning and using the Raspberry Pi Pico. Though primarily aimed at beginners, the impressive list of features ensures that it can sit at the heart of your projects long after your skill level increases. It gives the user easy access to all of the features of the Pico, adds useful troubleshooting enhancements, AND, includes many complimentary features and additional outputs and components in one easy to use accessory board. Take it out of the box, plug in a Pico* and you are ready to learn, no soldering iron required! Add to all of that useful code examples for speeding your progress and you have the perfect platform for any STEM or robotics projects.
*Note: This board does not have a Pico included, a Pico (with headers already attached) can be obtained here. We soldered on the headers for you so you can plug n play straight away!
The Pico base has a useful reset button for your Raspberry Pi Pico and gives you access to all GPIO pins via two 20 way pin-headers, which are clearly labelled. Each GPIO has an LED indicator for visual code testing and troubleshooting. On the underside of the board is a comprehensive pinout diagram showing the function of each pin.
The board features 3 programmable pushbuttons, an RGB LED, buzzer, stereo 3.5mm audio jack, micro-SD card slot, ESP-01 socket and 6 Grove ports for easily connecting sensors and other external components! The onboard components are linked to GPIO pins and are ready to use straight away.
The onboard Grove connectors are compatible with our Range of Grove sensors and modules, making it super simple to expand on the range of activities open to you. Just connect a module to one of the 6 ports and begin coding!
As the board is designed for the Raspberry Pi Pico, you can code your projects in CircuitPython, MicroPython & C/C++. Connect to your computer (PC/Mac/Linux) via USB and with editors such as MU and Thonny, you can flash your programs straight to the Pico.

Features:
An all-in-one accessory to simplify learning and using the Raspberry Pi Pico.
It works out of the box. No soldering required!
Easy access to all of the Raspberry Pi Pico's pins on two 20 way pin headers.
Each GPIO pin has an LED indicator for quick visual troubleshooting.
Onboard components include;

3 x programmable push button (GP20-22)
An RGB LED – NeoPixel (GP28),
Piezo buzzer (GP18).
3.5mm stereo audio jack (GP18-19).
Micro SD card slot (GP10-15).
ESP-01 socket (GP16-17).
6 x Grove ports.

Code it with MicroPython, CircuitPython, and C++.
Use editors such as MU and Thonny, both great for beginners.
There is

 

example code

 

available to help the beginner hit the ground running.
Contents:
1 x Maker Pi Pico Base (without Pico): Simplifying Pi Pico for Beginners.
Dimensions:
Length: 94mm.
Width: 68.6mm.
Requires:
Resources: