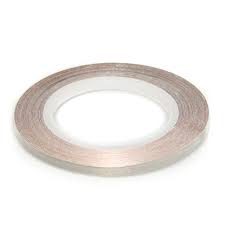 Maker Tape 1/4th inch - 20M Roll - Nylon Conductive Tape
Original price
$15.95
-
Original price
$15.95
Overview
Maker Tape's nylon fibers combined with conductive materials result in an amazingly strong and highly conductive tape that won't leave a mess on your next project. Maker Tape turns any surface into your next circuitry project. Use it on walls or windows, cardboard or fabric, design your own Paper Craft creation or even apply it to LEGO™ bricks for use with Crazy Circuits.
Unlike other conductive tape options Maker Tape is specially designed to be Z Axis Conductive for much easier project creation. Just overlap two pieces of Maker Tape to create a solid electrical connection. Just tape down the component for a simple connection. No mess, hassle, or special tools needed. 
Maker Tape works well for projects of all sizes. Use the 1/4th inch wide tape for paper to create light up paper crafts or use it on fabric to make short term wearable projects. Use the 1/8th inch wide tape on any LEGO compatible bricks along with our Crazy Circuits components to make circuit boards on plastic. Since Maker Tape has under 5 ohms per foot of resistance it can be used for both simple circuits as well as Arduino level projects.
While we typically use our 1/4th inch wide tape with LEDs it also works quite well with our self sticking vibrating motors. Add these to a paper project to make your crafts move and shake. 
This listing is for one 20M (65 feet) of Maker Tape at a width of 6mm (1/4th inch). Tape comes with a plastic backing applied which makes it ideal for precutting. When using the tape either run the tape over the leg or exposed wire of your part, or place the part on top of the tape and apply a small second strip on top (sandwiching the two together).
Directions, Lesson Plans, and Videos
We're always adding projects and templates to our online Project Database. There you'll find greeting cards, simple paper crafts, LED projects, and motor based projects.