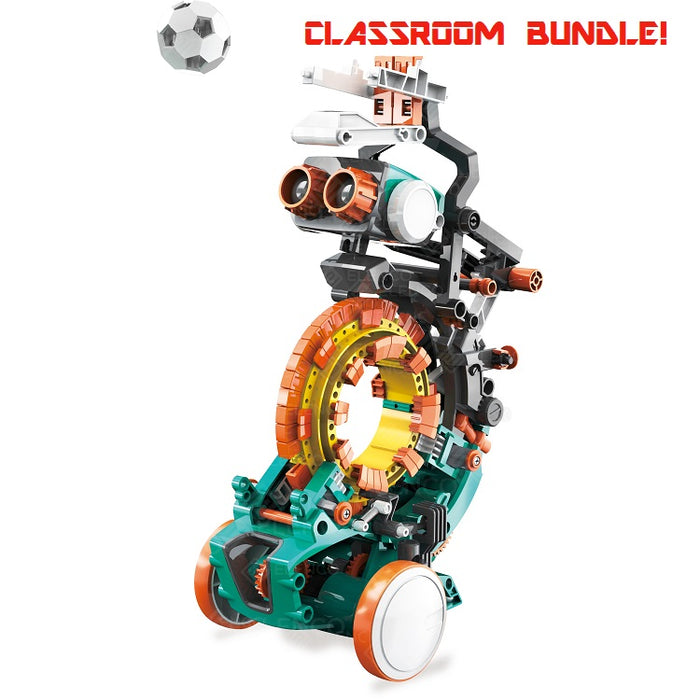 Mech-5 (Elenco) - Classroom 10 Pack
Original price
$549.95
-
Original price
$549.95
The mechanical coding wheel is the heart of the Mech-5 Mechanical Coding Robot. It steers its coded courses and programmed tasks. Coding is executed effortlessly by snapping the coding buttons onto the coding wheel, directing your robot to perform its basic functions – move forward, backward, right or left, spin or pause. Thanks to this simple to follow approach, coding and performing more challenging tasks like throwing, lifting, kicking or drawing, become achievable as the user's coding skills increase.
This mission-based, entry level STEM coding robot is designed to inspire users to learn about mechanical engineering principles and coding basics. It encourages children to think while also developing their problem-solving and troubleshooting skills when faced with different tasks and difficulties. Engage in the coding world and beyond by challenging yourself with your very first coding robot.
TEACH TECH™ features robotic kits that explore renewable energy and coding! TEACH TECH™ follows the Learn By Doing® philosophy found in all of Elenco's products. With TEACH TECH™, kids can enjoy hours of educational fun while boosting their confidence and critical thinking skills. Products in this line appeal to anyone who enjoys using their hands to build, tinker, and bring to life their creations with movement, coding, and programming. Forward-thinking kids can explore alternative energy with kits that highlight solar, hydraulic, or wind power.
Developed in 2019 with a fundamental focus in STEM education, the TEACH TECH™ product line is comprised of three categories:
Coding- These build-it-yourself robots teach children the fundamentals of robotics and coding, while incorporating problem-solving and creativity. Tobbie II and Mech-5 are ingenious coding robots that will keep children challenged and engaged, while still having fun.

Electronic Coding Robot: Tobbie II; Mechanical Coding Robot: Mech-5

Green-Energy- With alternative energy playing such a pivotal role, there is no better time than now to start children on the path to learning basic concepts behind these technologies. All TEACH TECH™ Green-Energy robots are powered by either water, wind or sun, so there are no batteries required.

Green-Energy Robots: Solar Rover; Solar Mini-Racer; Solar Fun.6; Air Screamer; Rivet-Rex 12; Meta.4; SolarBot.14

Mechanical-Robotic Kits- In the classroom or at home, Mechanical-Robotic Kits have a big impact on STEM education. Learn about robots, and have fun doing it! There are numerous projects, activities and tasks that these robots can accomplish. The possibilities are as limitless as your imagination!

Mechanical-Robotic Kits: Robotic Arm Wire Controlled; Zivko the Robot; King Lizard Robot; MotoBot.4; HydroBot Arm Kithttps://www.youtube.com/watch?time_continue=6&v=oUh9i1BIaAQ