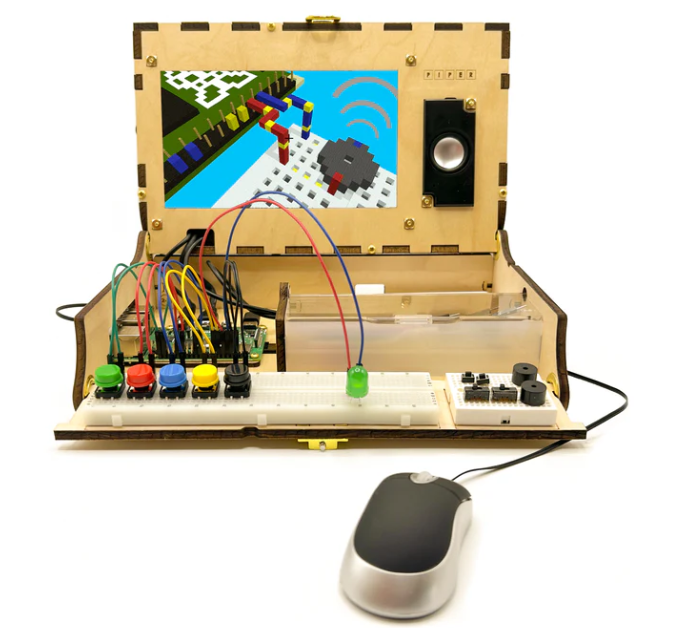 Piper Computer Kit V4
Original price
$549.95
-
Original price
$549.95
Welcome to the ultimate D.I.Y. computer-building experience, for ages 8-13! Build a REAL computer from start to finish while playing the Raspberry Pi Edition of Minecraft and learn how to code and make STEAM connections to the real world. 
With beautifully etched, laser-cut wood pieces, the Raspberry Pi microcomputer, and hardware designed to be assembled using the included blueprint and screwdriver, the build is just the beginning. Start up the computer and dive into Piper StoryMode, our unique gamified experience which blends physical building with virtual storytelling to engage kids in STEAM learning. Need a button to move in the game? Build it yourself and learn the basics of circuitry and electrical engineering! 
Take it one step further and learn to code using PiperCode, the Google Blockly, drag-and-drop coding experience. Learn to program and control electronics from your Piper Computer Kit with step-by-step instructions that guide kids through blinking an LED, building a game to test your reflexes, and so much! 
Piper Computer Kit 4 Features:
Raspberry Pi (Model 3B+) 
830 point breadboard
7" Screen 
Lithium ion rechargeable battery
Integrated amplifier and driver board
Large, 10mm LED lights
50+ Raspberry Pi Edition of Minecraft & Google Blockly coding projects
For educators, Piper offers a robust standard's aligned curriculum with 35 lesson plans that may be purchased separately. For more information regarding classroom options, contact us at sales@robotixeducation.ca