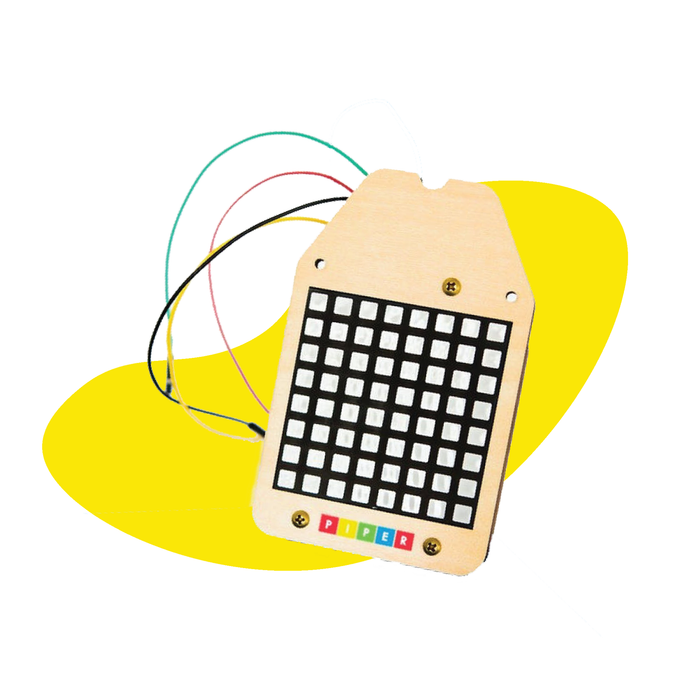 Piper Make Light Show
Original price
$66.15
-
Original price
$66.15
Light Show is a widget of the Piper Make Light Engineering Expedition Kit, and is perfect to create your name (and so much more) in lights! Light Show is an add-on and REQUIRES a Piper Make Starter Expedition Kit with the Raspberry Pi Pico to get started (sold separately).
Ever seen those variable-message signs on the highway? The ones that warn you about bad weather or upcoming traffic as you're driving by? With Light Show, create your own scrolling messages and send them along to friends or create brilliant art with lights! You can also create a game to play using LED lights like Tetris, all with code you will learn to write. This kit includes the Light Show lesson free and accessible on make.playpiper.com.
With Piper Make Light Show, you will receive:
8x8 Matrix of LEDs
Laser Cut, Laser Etched Wood Pieces
Brass Hardware
Jumper Wires (M2F)
Blueprint Postcard
Piper Make Sticker
For educators, our Piper Make online platform includes tools to facilitate teaching with Piper Make! Resources such as Educator Guides and a full suite of Google collaboration tools including Classroom Share Button, Google Single Sign On (SSO), and Save to Google Drive functions are free and available at make.playpiper.com.
The Piper Light Show may be also used as an add-on to the Piper Command Center or the Piper Computer Kit. Note: Our Light Show PORTAL requires a Command Center and your own computer! Our Piper Make projects are available on make.playpiper.com.
Recommended for ages 8+.