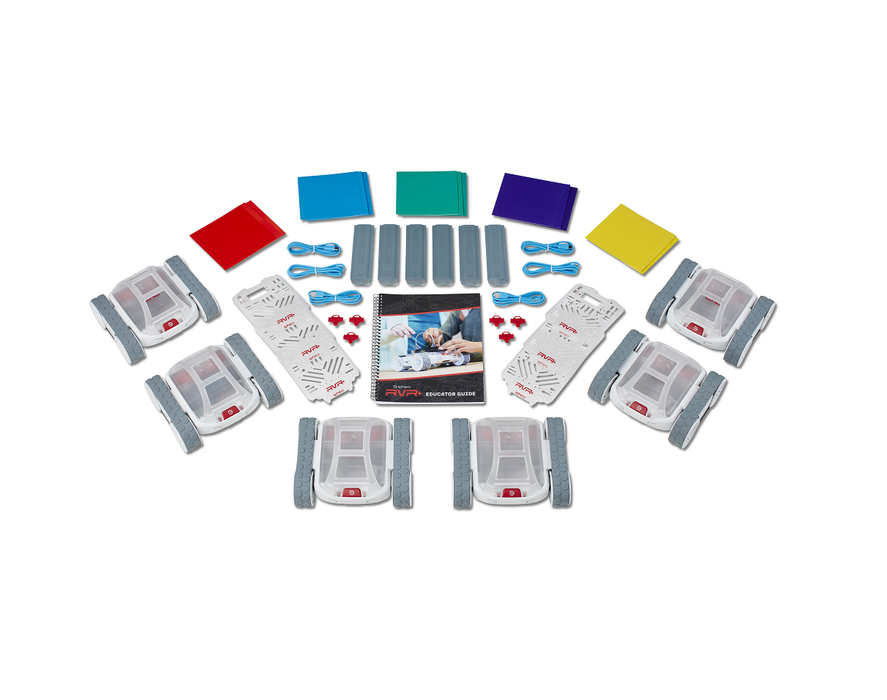 Sphero RVR+ Multi-Pack (6-Pack)
Original price
$2,325.95
-
Original price
$2,484.90
The RVR+ Multi-Pack brings Sphero's revolutionary take on the programmable robot to the entire class with 6 x RVR+ robots and RVR+ Educator Guide. They're drivable right out of the box, packed with a diverse suite of sensors, and built for customization. RVR+ is expandable and made for novice to advanced programmers in 6th–12th grades.
ENGAGE THE ENTIRE CLASS - Engage up to 18 students with 6 RVR+ robots and accessories. Supplement the Multi-Pack with

 

individual RVR+ robots

 

to accommodate more students. 

TEACH WITH CONFIDENCE - The

 

RVR+ Educator Guide

 

contains tips for successful rollout of RVR+ in your classroom as well as activities.

ENDLESS CLASSROOM POSSIBILITIES - The free Sphero Edu app contains hundreds of lessons to teach coding and computer science with RVR+, and advanced programmers can level up with the Public Sphero SDK and connect third-party hardware capabilities with Python.

EXPANDABLE PLATFORM -  RVR+ features a 4-pin UART and an onboard power source, allowing students to connect and run third-party hardware like a Raspberry Pi, BBC micro:bit, or Sphero's very own littleBits. RVR+ allows your inventions and mobile projects to go even further with an advanced color sensor and an enhanced gearbox giving more torque and providing the flexibility to program RVR+ to do whatever you can imagine.
OPTIONAL: SpheroCare
What is Spherocare?
Spherocare is an extended warranty program that allows you to bring our products into your classroom knowing your investment is protected. 

What is covered under Spherocare?
 Spherocare provides full coverage of normal wear and tear and accidental damage from the date of purchase.

What is not covered under Spherocare?
Unfortunately, Spherocare does not cover lost or stolen bots and bits ‒ keep an eye on them so they don't roll away.
1 Year SpheroCare: $85.95
2 Year SpheroCare: $114.95
3 Year SpheroCare: $154.95