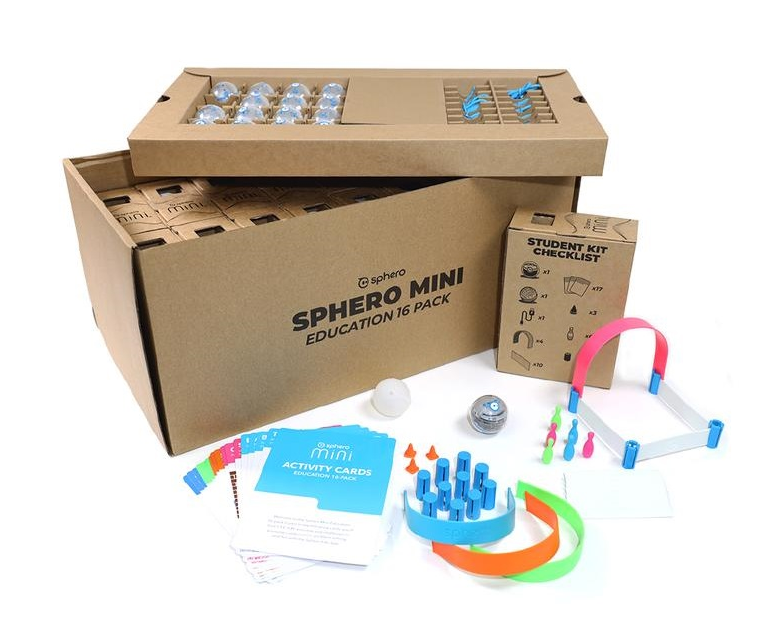 Sphero Mini Education 16-Pack
Original price
$1,875.95
-
Original price
$2,019.95
The Sphero Mini Education Pack is now individualized and has everything you need to get rolling and learning! This new and improved pack includes 16 clear Sphero Mini app-enabled robotic balls, bumper covers, mini traffic cones, bowling pins, construction sets, and activity cards that help expand playtime and imagination in STEAM learning. Now enough accessories for easier to send home with students for individualized or hybrid learning!
LED lights glow in tons of colors  
Contains gyroscope, motor encoders, and accelerometer sensors  
Interchangeable shells allow customization with several color options available  
Connect to Sphero Play app and Sphero Edu app to play STEM games and learn to code
What's Included:
16 Sphero Mini app-enabled robotic balls
16 Robotic ball covers
16 sets of 6 pins and 3 cones
16 construction sets
16 splitter USB cables
16 sets of 15 activity cards
1:1 Robots/Accessories/Activity Cards packaged together
OPTIONAL: SpheroCare
What is Spherocare?
Spherocare is an extended warranty program that allows you to bring our products into your classroom knowing your investment is protected. 

What is covered under Spherocare?
 Spherocare provides full coverage of normal wear and tear and accidental damage from the date of purchase.

What is not covered under Spherocare?
Unfortunately, Spherocare does not cover lost or stolen bots and bits ‒ keep an eye on them so they don't roll away.
1 Year SpheroCare: $79.95
2 Year SpheroCare: $109.95
3 Year SpheroCare: $149.95