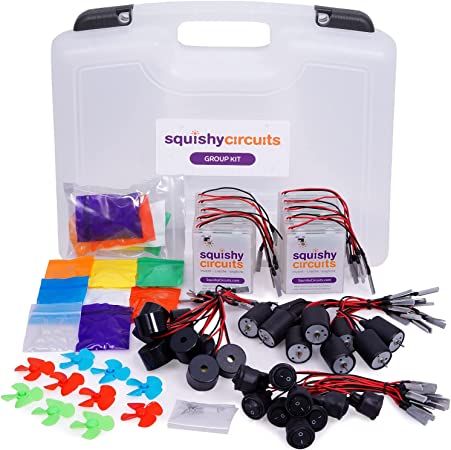 Squishy Circuit Group Kit
Original price
$375.95
-
Original price
$375.95
The group kit is great for classrooms, makerspaces and more!
Every group kit is packed in a sturdy, plastic case and includes:
10 - Battery Holders (40 AA Batteries not Included)
10 - Buzzers
10 - Motors with Fan Blades
10 - Switches
80 - LEDs - 10 ea in Red, Green, White, Yellow, Orange, Purple, Blue, and Color Changing
We suggest up to 3 children per battery holder, so this kit accommodates groups of 1-30.
This kit does not come with dough, but we suggest purchasing two 'Squishy Circuits Dough Kits' which will provide the correct amount of conductive and insulating dough. Remember that making the dough can be a fun group activity! We would still suggest purchasing insulating dough though because the purchased version works much better.