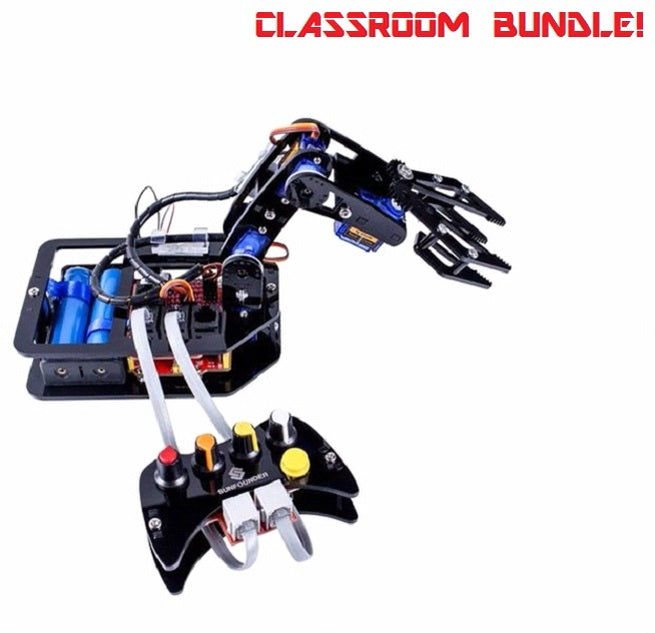 STEAM Robo-Arm Kit for Arduino - Programmable 4-Axis Robot Arm (HamiltonBuhl) - Classroom 10 Pack
Original price
$2,666.95
-
Original price
$2,666.95
STEAM Robo-ARM Kit For Arduino

 
The 4-axis STEAM Robo-Arm kit for Arduino from HamiltonBuhl® is a compact kit loaded with STEAM education, from construction to mechanical engineering to coding!  
Designed to inspire interest in STEAM subjects such as electronics, automation, robotics and programming, the Robo-Arm is made of lightweight components requiring nothing but a screw driver and eagerness to assemble.  
Featuring:
Double-layered, jagged-edged and pointed grippers – to firmly grip and hold objects  
4 servos to control four joints allowing movement along 4 axes 
MCU Arduino UNO, servo expansion board and remote control board to control, move and program the Robo-Arm
4 potentiometers
The Robo-Arm can be controlled manually or programmed to carryout and memorize 100 movements - a fantastic introduction to the world of repeated task automation. 
With video instruction, STEAM Robo-Arm from HamiltonBuhl®  is the perfect entrée for students ages 13+ into the world of robotics and coding! 
Specifications:
Suitable for Ages 13+
1 Set x Acrylic Plates
14 x M1.2*4 Self-tapping Screws
8 x M2*8 Screws
8 x M2 Nuts
2 x M3*8 Flat-head Screws
10 x M3*8 Screws
18 x M3*10 Screws
20 x M3 Nuts
4 x M7 Thin Nuts
1 x 3*10*1 Washers
5 x M3*10 Aluminum Tubes
2 x M3*6 Corn Rivets
3 x φ3*φ8*4 Band Edge Bearings
4 x Servos (9g)
4 x Potentiometer Buttons
1 x 18650 2-Battery Holder
1 x Mars Board
1 x Expansion Board
1 x Potentionmeter Module
1 x USB Type-C Cable
2 x RJ11 Cable
1 x Ribbon
4 x 3M Non-skid Pads
2 x Heat Shrink Tubing
2 x Cable Clips
1 x Screw Driver
2 x 18650 Rechargeable Li-ion Batteries (3.7V)
1 Battery Charger (UL Approved)
Compact, lightweight and fun to assemble
Programmable with Arduino and Rollarm software
Compatible with Windows PC
1 Year Warranty