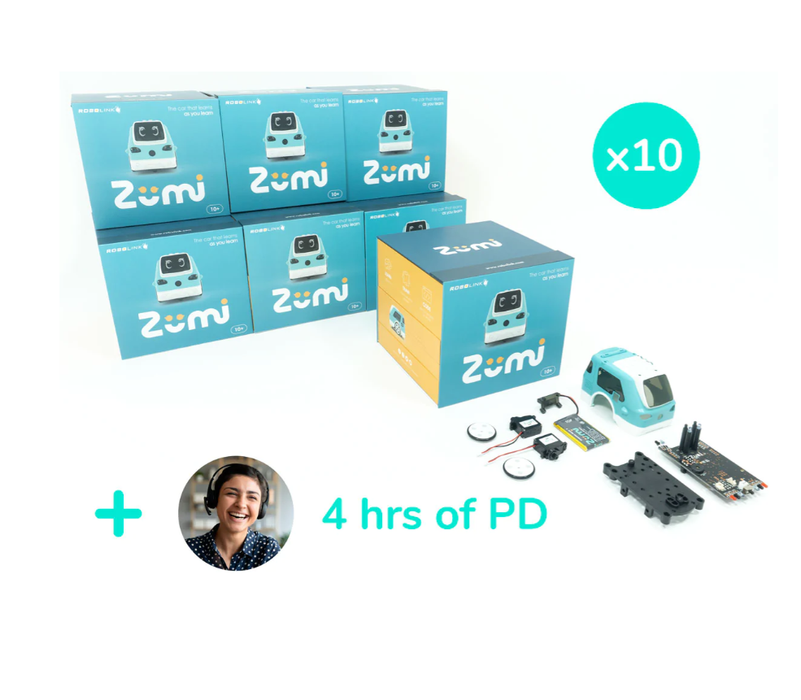 Zumi Set of 10 kits
Original price
$2,395.95
-
Original price
$2,395.95
Meet Zumi

The car that learns as you learn
Ages: 10+
Programming languages: Blockly and Python
What you'll learn: Artificial intelligence, machine learning, computer vision, sensors, LEDs, gyro, accelerometer, buzzers
Zumi is tiny buildable self-driving car kit that's all about making artificial intelligence approachable. Learn about how autonomous cars use sensors and cameras to navigate around the world and learn about the environment using AI. Code her using Blockly or Python. It's the perfect way to learn not only what AI is, but how it works.
Unlike the Zumi Educator Package, this is just a set of 10 individually boxed Zumis, no additional professional development.


What's in each box:
Each individual Zumi kit comes with the following:
1 Zumi shell
1 chassis
1 Zumi main board
1 Raspberry Pi Zero
1 OLED screen
1 Pi Camera
1 Pi Cam ribbon cable
1 microSD card
1 LiPo battery (battery life is approximately 1 hour)
2 DC motors
2 wheels
1 mounting bracket
Screws and standoffs
1 jumper wire
1 USB cable
1 screwdriver
Color activity cards
Student:Device Ratio
We recommend a 1:1 student to device ratio, and at most a 2:1 ratio.
Free Curriculum
Head over to Basecamp to see our free lessons.