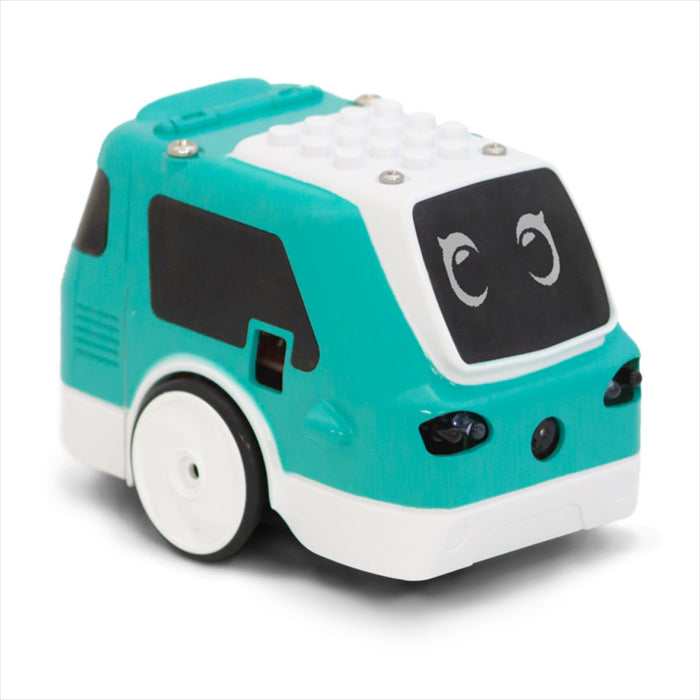 Zumi -Self-driving Artificial Intelligence Car (1 Zumi Car)
Original price
$245.95
-
Original price
$245.95
Zumi is a curious little self-driving car that's all about learning AI. You can teach Zumi to recognize colors, learn gestures, recognize faces, and more! She's programmable in Blockly or Python.
Lessons to bring your code to life
Zumi can learn! Learn about how artificial intelligence (AI) works by training Zümi to navigate an environment. The more she learns the environment, the better she becomes at navigating.
Coding
Code in Blocky and Python
She's friendly and approachable
AI can be an abstract and complicated subject, but Zumi is here to help. Help her learn more about the world she lives in so she can navigate more, and you'll also learn skills that will soon become an integral skillset for the future
Step-by-step tutorials & curriculum
We know AI is a complex topic, so we will have step-by-step tutorials and a full education standards-aligned curriculum that walks you through what AI is, how it works, and how it can be used to solve real-world issues. 
See Zumi's Self-Guided Curriculum

Quickstart Guide

Join our Zumi competition from anywhere in the world

Join our global Cruise to the Park challenge, part of the International Robotics Competition. It's fully virtual, so you can join from anywhere in the learn. Registration is now open! 

Click Here to Register
Zumi, the car that learns as you learn

A friendly, self-driving car kit that's all about making artificial intelligence (AI) approachable for everyone!

Learn About Artificial Intelligence

Whether you use Amazon Alexa, own a Tesla, play mobile games, or use Google Maps, artificial intelligence (AI) is everywhere. Like coding, soon knowing about AI will make you better at your job no matter what kind of work you do. Knowing how to use it will be an integral skill in tomorrow's workplace. Zumi will help make something that's normally complicated into something approachable.
What's Inside?
Zumi won't break the bank! We've used open-source technologies in order to make Zumi affordable so that everyone can play. It's small investment to become an AI wizard of the future.
Each Kit Includes:
1 Zumi shell

1 Chassis

1 Zumi main board

1 Raspberry Pi Zero

1 OLED screen

1 Pi Camera

1 Pi Cam ribbon cable

1 microSD card

1 LiPo battery (battery life is approximately 1 hour)

2 DC motors

2 wheels

1 mounting bracket

Screws and standoffs

1 jumper wire

1 USB cable

1 screwdriver

Color activity cards

Access to the Zumi dashboard