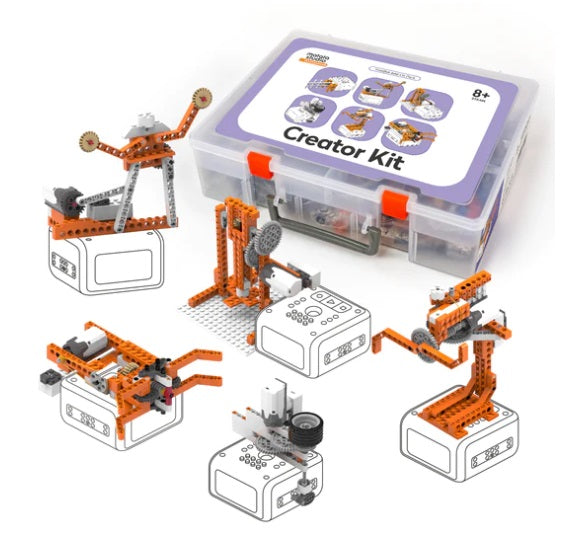 Creator Kit for Vincibot
Original price
$65.95
-
Original price
$65.95
Matatalab Creator Kit is an expansion pack for VinciBot coding robot that enables creative building. It includes an external motor and over 400 building blocks. Using the Creator Kit, students can construct structures and gain a hands-on understanding of physical mechanisms like crankshafts, linkages, and cam structures. Additionally, the Creator Kit allows for creative design by seamlessly combining VinciBot's building and programming capabilities, resulting in a wide range of interesting and dynamic forms and behaviors. This fosters the development of students' creativity, engineering thinking, and design mindset.
Bullet Point
* Creative building: To engage in creative structure building by using external motors and over 400 building blocks;
* Hands-on learning: To gain a deeper understanding of physical mechanisms;
* Foster Creativity and Engineering Thinking;
* With more than 20 building forms
Specification
 
Specification
NOTE
Adapter

9V output voltage
1.5A sustained current output

Compatible with LEGO 9686 motor
Using the unofficial electrical motor may cause VinciBot to automatically shut down or the motor not to function.

Motor

9V voltage;
No-load current: 80MA;
No-load engine speed: 380 RPM;
Stalled torque: 11 N.cm

The motor speed should be set between 70% and 100%, otherwise, it may not be able to drive.


Please kindly note:
The first time you set VinciBot with a Lego Motor extension, you must load the driver program to VinciBot.  Please check the detailed directions in user manual.
We also provide 20 free building cases in Building manual for hands-on learning. 
Package list
Building Bricks (separate packages by type) x1
Motor x1
Adaptor x1
Building manual x1
User guide x1